The following is an extract from Trust Children Update June July 2006
(A registered Public Charity Trust)
35B, Seashore Town, Panayur, Chennai – 600 119
Ph: +91 44 24530762 Website: www.trustchildren.org
Dear friends
The school has started on a joyous note and the students have started their year with more confidence and poise
1) The "How to live" classes have been going well and our aim to inculcate right values, through stories, dramas, work shops are very much bearing fruit….
2) The children are practicing their Yoga religiously and are doing great
3) The karate classes have become very professional under Sensei Ravi Krishnan and the young karatekas are showing enormous promise.
We were honoured by the visit of Sensei Wong Tuang Seng 7th Dan Shito-Kai (J.F.K) Chief Instructor of the Shitoryu Karate Association of Singapore. It was wonderful to see him taking classes for our children…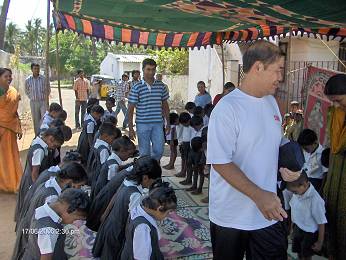 Children bowing and welcoming Sensei Wong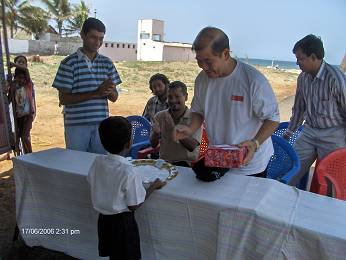 ……. Sensei Wong being felicitated by our children. Sensei Ravi Krishnan is seated to Sensei Wong's left.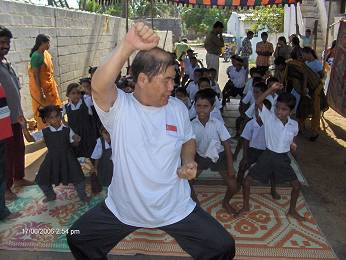 Sensei Wong taking classes…..
The children felt totally motivated by Sensei Wong and have told me that they are going to become exponents themselves
4) We have Ms Yashoda, who has joined our faculty as the administrative officer and teacher. She has done her M.A., in history and B.Ed., and has worked 6 years as a teacher. I welcome her to our family.
5) A dental camp was conducted by the "Ragas Dental College & Hospital" for our children. The doctors did an extremely efficient check up. Our heartfelt THANKS to the doctors and the College for taking their time off and helping our children.

The doctors gave the children classes on oral hygiene….
Thanks to their work, we have smiling bright faces with clean white teeth
On this happy note I shall end this update….
We need loads of funds for constructing our school building. Do help us raise funds and make our school permanent….
For more about our work, do visit www.trustchildren.org
With love Capt Nandkumar
cptnand@trustchildren.org
info@trustchildren.org