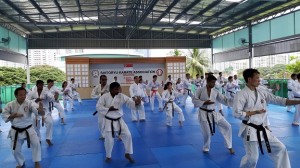 We all face many challenges every day.
The primary challenge we all face now is this: how do I juggle everything in my life (job, kids, etc.) and still take care of myself?
For a growing number of people, our classes provide the perfect answer. It is an excellent way to help you manage stress, get in shape and feel great. We provide a safe and positive environment where those with common interests can join together in physically rewarding activities.
Our adults' class primarily focuses on striking, kicking and blocking through exercises that build foundation, proper form and technique. "Katas", a sequence of practical self-defense moves against single and multiple attackers and Kumite (sparring) will be taught, as you progress. All our classes are conducted in a safe and controlled environment where you learn at your own pace.