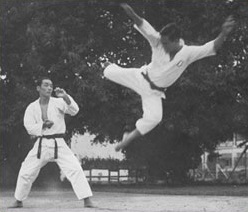 In the early sixties, a group of people got together with the idea of setting up a karate school in Singapore. They were no ordinary men in the street. They were law enforcement officers who understand the importance of martial arts, not only as a form of exercise, but also for self-defence.
Together with other professionals and martial arts enthusiasts, they started a karate school in McNair Road in December 1964. It was then the home of one of the founder-members, a police officer. The school – the first of its kind in Singapore – was named the Singapore Karate Association.
Among the notable founders were Messrs Ronald Naidu, Lam Kok Keong, Tan Kah Wan, Yoong Siew Wah, and the late George Wee and Dr Chia Ah Kwan.
In June 1967, the Association recruited the services of a senior Japanese instructor, Sensei K Oda, a 3rd dan black belt holder trained in the "shito" style of karate. It was deemed necessary to engage Sensei K Oda to upgrade the standard of karate and promote shitoryu style of karate among Singaporean.
The recruitment of Sensei K Oda stirred up local interest in the art. A steady stream of students signed up, and they had to be screened to ensure that they were of good character. The courtyard was turned into a training dojo. Training was hard and made even tougher by the afternoon heat on the cement courtyard. Rules were also drawn up to ensure discipline among the members and ensure the maintenance of the dojo.
The membership grew and the Association produced some of the best karate-kas in the region in the 1970s. this was evident when a local team beat stiff competition from Japan and the United States and clinched the second runner-up spot in the 2nd World Karate Championship, held in Paris in 1973.
The team which achieved this accolade for Singapore comprised Messrs Wong Tuang Seng who is still the current Chief Instructor, Victor Sim, Loh Kong Wing and Chan Wah Heng. The names and faces of these pioneers are displayed at the dojo today. Some have retired since then, but a few of the veterans stayed on.
One such pioneer is Shihan Wong. He began training at the age of 25 at the then Singapore Karate Association and went on to train under various Japanese instructors. He took part in several international tournaments and built up SKA as a reputable dojo. He has steered the Association through the past 39 years as its Chief Instructor since 1977. Under his leadership, the dojo was also physically transformed into a modern, well-equipped training ground for its members. It has also been renamed Shitoryu Karate Association (SKA) to meet government regulations.
In 1989, the Association implemented two major steps to further improve and promote karate. Previously, there were only "ordinary," honorary," "life" and black belt members – all of whom must meet the required training standards at its headquarters. The Association's constitution was amended to allow for "associated" and "affiliated" memberships. With these amendments, it allowed trainees at its branches to become "associated" members of SKA, and thus able to identify themselves with a larger and more established organisation. Currently, SKA now have " associated" membership from local and overseas organisations:
i. Traditional Shitokai Karatedo Association, Malaysia (TSKA)
ii. All India Shitoryu Karatedo Federation (AISKF)
iii. Shin Sei Kai Shitoryu Karatedo, Dubai
iv. Laos Shitoryu Karatedo Academy
v. Cambodia Shitoryu Karatedo Association (CSKA)
vi. Nepal Shitoryu Karatedo Association (NSKA)
vii. Philippines Karate League (PKL)
viii. Ken Shin Kai Karate Club, Singapore (KSK)
ix. Shin Sei Kai Shitoryu Karatedo, Singapore (SSK)
Similarly, the "affiliated" membership allowed other local and foreign-registered clubs and associations involved in the training of "shitoryu" karate to benefit from the resources of a larger parent body. We have now "affiliated" members from: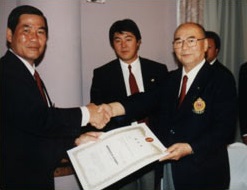 • Indo-Japan Shitoryu Karate-do
• Shin Sei Kai Shitoryu Karate Association, Sivaganga District, Karaikudi, Tamil Naidu
• Shin Sei Kai Shitoryu Karate, Ambuttar, Chennai
• Shin Sei Kai Shitoryu Karatedo, Dubai
• Dragon Shitoryu Karatedo, Thannavu, Tamil Naidu
• Shito Ryu Karate, Association, Houston/USA
SKA is presently affiliated to the World Shitoryu Karatedo Federation (WSKF), Asia-Pacific Shitoryu Karatedo Federation (APSKF) and the Karatedo Union of Singapore (KUS). In September 2005, the Association was designated by the Asia Pacific Shitoryu Karatedo Federation (APSKF) as its hombu (headquarter) dojo because of its excellent facilities.