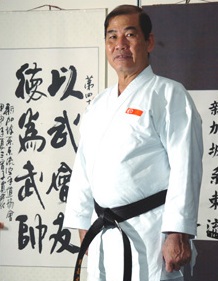 Shihan Wong began his karate training in SKA in 1967 at the age of 25. The Association, established in 1964, was then known as the Singapore Karate Association. His first instructor was Sensei K Oda, a graduate from the Kansai University in Osaka, Japan.
After his first experience in an international competition at the First World Union Karate Organization (WUKO) Championship in Tokyo in 1970, he travelled to Japan regularly to train under Soke Ken-Ei Mabuni and Kenzo Mabuni, both sons of the founder of Shitoryu Karate-Do, Kenwa Mabuni. Shihan Wong is currently the Honorary Chief Instructor of the Association and was appointed in 1977.
In 1985 after his return from Japan, he was burning with desire to upgrade the training facilities in SKA. He strongly felt that for a member to understand karate more deeply, training in a proper dojo is necessary. With the support from the former Chief Instructors and senior members of SKA, his dream was realized. A covered dojo was built and is now the hombu dojo for the APSKF.
He is the first Singaporean to be graded for his 7th Dan by the World Shitoryu Karate-do Federation Board of Examiner in 1995. He was also appointed as the Official Instructor of World Shitoryu Karate-do Federation in Mexico , 1996, during the 2nd World Shitoryu Karate Federation Championships. In 1978, Shihan Wong and Sensei Victor Sim were responsible for the establishment of the Asian Shitoryu Karate-Do Federation (ASKF) now known as Asia-Pacific Shitoryu Karate-Do Federation (APSKF). Currently, there are 15 affiliates of the APSKF. Shihan Wong has been highly praised and commended by Soke Ken-Ei Mabuni and Sensei Ken Sakio, President of the World Shitoryu Karate-Do Federation, for his selfless commitment in the promotion of Shitoryu Karate-Do in the Asia region and also in organizing the ASKF Championships.
Shinhan Wong holds/has held the following positions:
• Shichidan, World Shitoryu Karate Federation
• Hachidan, Karate-Do Union of Singapore
• Chief Examiner, Shitoryu Karate Association
• Official Instructor,World Shitoryu Karate Federation
• Referee, World Shitoryu Karate Federation
• Technical Advisor, Asia-Pacific Shitoryu Karate Federation
• National Coach for the 3rd, 6th and 8th WUKO Championships and 17th SEA Games